We are excited to announce that RhodeCode, the leading enterprise code management platform for Git, Mercurial, and Subversion, is now available under the AGPL license. RhodeCode 4.0 is one of the largest releases we've ever done, it includes many major improvements, security fixes, UX and performance optimizations.
Starting today, RhodeCode comes in two flavors. The Community Edition (RhodeCode CE) is free and open source. The Enterprise Edition (RhodeCode EE) is licensed per user, adding technical support and enterprise-valued features on top of RhodeCode CE.
Download RhodeCode CE, check the source code and join the discussions on the Community Portal. Enterprise Edition is coming next week. Or keep reading for more details.

From the start, RhodeCode has focused solely on building a unified and secure source code management solution for demanding global enterprises. Some of the largest and most secure organizations in the world rely on RhodeCode. Our goal in open sourcing RhodeCode 4.0 is to accelerate the pace and scope of innovation on our platform. It's time for the community to engage more directly in shaping the future of RhodeCode development.
Our Mission
RhodeCode's mission is to unify and secure a solution for a critical enterprise problem. Software development in a behind-the-firewall environment has always been an expensive and complex job, prone to security vulnerabilities, and bound to separate version control systems and, in turn, to their tools and integrations: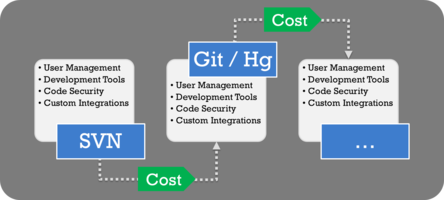 It doesn't have to be this way. Here, at RhodeCode, we see source code management differently: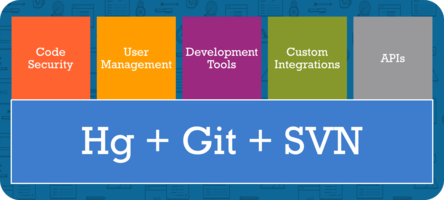 Enterprise source code management platform should work simultaneously across any number of behind-the-firewall repositories (be it Mercurial, Git or Subversion). It should be secure source code repositories, with advanced user management and access controls; yet, be developer-oriented, with code review tools and API integrations that work across the whole code base, in a unified way.
Our Vision
We intend to create the world's best platform for enterprise software development. That is why we are open sourcing RhodeCode Community Edition under the AGPL, so anybody can contribute. Developers will be able to build and share their own integrations, accelerating the development of the platform. Besides, we see many software teams using subsets of RhodeCode's features, such as unified user management for Git and Subversion, or top-notch code review functional for Mercurial. Those teams will benefit greatly from having free tools and integrations for their repositories.
In addition, we launched a Community Portal, the place to discuss repository management, enterprise security and, of course, the development of the Community Edition, its features and the future roadmap.
How Can I Get RhodeCode?
New users of RhodeCode may compare the editions and pick the one that fits their needs best. RhodeCode CE is available from the Download page. RhodeCode EE will be available in the first week of June.
Existing customers with valid licenses for RhodeCode Enterprise should follow the usual upgrade process once RhodeCode EE 4.0 is available (next week). You will automatically get all major UX and performance improvements, as well as the latest security updates.
Freemium customers, universities and authorized non-profits may choose to upgrade to either RhodeCode CE (for free) or RhodeCode EE (for a fee). Please check our web site for upgrade offers and discounts.
Customers with older RhodeCode (versions 2.x or 1.x) are strongly advised to upgrade to either RhodeCode CE or RhodeCode EE. Both editions contain multiple critical patches to published vulnerabilities in Git and Mercurial.
What's Next
We're inspired by great developer-driven companies that open sourced their products to generate massive growth and innovation, including Ruby on Rails (37signals), MongoDB (MongoDB) and Go (Google).
Our goal is to create the world's best platform for enterprise software development. Open sourcing the platform via an open source AGPL license is just the first step. Download RhodeCode CE, check the source code and join the discussions on the Community Portal. Enterprise Edition is coming next week.
You will hear from us again very soon about more new products and special programs and incentives for developers to join our community.